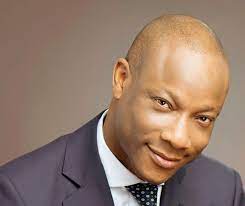 There is no respite yet for Guaranty Trust Holding (GTCO) at the stock market level as its  investors continue to fight back its lethargic fundamentals .For sometimes now, its share price has continued to backtrack with the existing stock investors  agonizing over the enormous  loss they have continued to suffer on their investments ; for the same reason the bank's market value has remained in roller coaster mode
This market less impressive performance could be situated in weak fundamentals. In the recent time .  Guaranty Trust Holding Co Plc has released its Q1 2022 financial result, which revealed a profit of N43.21 billion during the period. This reflects a 5.13% decline year on year. 
GTCO closed its last trading day (Friday, May 20, 2022) at 23.70 NGN per share on the Nigerian Stock Exchange (NGX), recording a 0.8% drop from its previous closing price of 23.90 NGN. Guaranty Trust Holding began the year with a share price of 26.00 NGN but has since lost 8.85% off that price valuation, ranking it 131st on the NGX in terms of year-to-date performance; its year on year performance shows 19.7% loss the side of the investors .it is more disastrous when the investors who bought the stock in 2018 at the rate of N55 per share estimate the tragedy that befalls them .
Some out of frustration have been offloading their investments . Guaranty Trust Holding is the fourth most traded stock on the Nigerian Stock Exchange over the past three months (Feb 17 – May 20, 2022). GTCO has traded a total volume of 1.21 billion shares—in 24,568 deals—valued at NGN 29.8 billion over the period, with an average of 19.2 million traded shares per session. A volume high of 130 million was achieved on February 17th, and a low of 3.27 million on March 3rd, for the same period.
GTCO underperformed the industry which returned 12.8% and the market which returned 31.6% over the past year. However , analysts believe , GTCO stock is undervalued compared to its fair value, trading presently below their estimate of fair value of N31.08 by more than 20%..This is confirmed by its Price To Earnings Ratio, P.E , at 4.1x compared to the NG Banks industry average (3.1x). though below the market at 8.9x . GTCO is good value based on its Price Earnings 'Growth ratio , PEG at 0.2x. GTCO stock price is believed to be cheap trading below premium though it is also overvalued based on its PB Ratio (0.8x) compared to the NG Banks industry average (0.6x).
The bank also reported earnings per share of N1.51, a 5.63% drop from the N1.60 reported a year earlier in 2021.
The statement revealed that in Q1 2022, Net interest income grew by 9.09% from N52.43 billion to N57.20 billion in the current period. Guaranty Trust's profit performance is on the back of margin growth as income from interest and fees and commission income appreciated year on year. However, net trading income declined y-o-y by 5.03%, subduing bottom-line profit, as well as other expenses.
Guaranty Trust Holding Co Plc last traded at N24.25 per share and its market capitalization stands at N713.71 billion as of Tuesday, April 26, 2022. Year-to-date performance shows that the share price of the company has depreciated by 6.73%.
The bank recently paid a final dividend per share of N2.70 per share, to its eligible shareholders, for the period ended December 31, 2021. The dividend was paid to the shareholders on April 8, 2022.
Price History & Performance
Summary of all time highs, changes and price drops for Guaranty Trust Holding
Historical stock prices
Current Share Price
₦23.70
52 Week High
₦30.00
52 Week Low
₦21.45
Beta
0.71
1 Month Change
0%
3 Month Change
-9.54%
1 Year Change
-18.97%
3 Year Change
-23.79%
5 Year Change
-32.82%
Key highlights of its results
The bank's e-banking income raked in N4.05 billion, representing a 4.98% increase from N3.85 million in 2021.
The Nigerian lender earned N70.64 billion, from its lending business as Interest income grew by 17.14% from N60.31 billion.
While loan losses during the period depreciated by 35.03%, net interest income after impairments appreciated by 10.72% to stand at N55.99 billion.
GTCO, however, grew its income from fees and commission rising 21.39% to N17.57 billion year on year.
Account maintenance charges for the Q1 2022 period grew by 23.83% from N4.18 billion in the corresponding period of 2021 to N5.17 billion, generating the highest F&C income for the group.
Also, the group generated a total of N15.30 billion in net trading income on financial instruments representing a 5.03% decline year on year.
However, the bank also made income from mark to market gains on trading investments which raked in a total of N6.83 billion.
The bank's e-banking income raked in N4.05 billion, representing a 4.98% increase from N3.85 million in 2021. This indicates that the bank has made significant progress in its use of e-banking channels to deliver financial services to its consumers.
In addition, the bank also grew its deposits from customers by a marginal 0.82% to N4.05 trillion while its total assets are now N5.50 trillion. Net assets rose 2.89% to N908.76 billion.