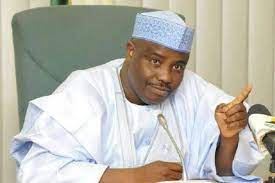 The Nigeria Governors' Forum (NGF) has invited the Governor of the Central Bank of Nigeria (CBN), Godwin Emefiele to a meeting over the apex bank's timeline to retire old N200, N500 and N1,000 banknotes.
The invitation sent out by the Director-General of the Forum, Asishana Okauru noted that the agenda of the meeting would dwell majorly on the recent redesigning of the N200, N500 and N1,000 notes, as well as the withdrawal policy of the CBN.
According to him, the agenda of the meeting that is expected to hold virtual, was titled, 'The Economic and Security implications of naira redesign and withdrawal policy'.
A statement by the NGF Head of Media and Public Affairs, Abdulrazaque Bello-Barkindo, stated that the discussions promise to foster participation and dialogue between various stakeholders including governments and civil society organisations to come out with a solution to the lingering issue.
The redesigned N200, N500 and N1,000 notes were launched by President Muhammadu Buhari on November 23, 2022.
The deadline to retire the old banknotes has been fixed for January 31, 2023.
Following its currency redesign project, the CBN had announced an upward review of its cash withdrawal policy across all payment channels by individuals and corporate organisations.
Under the updated regime, the bank said effective January 9, 2023, individuals and corporate entities can withdraw a maximum of N500,000 and N5 million respectively compared to N100,000 and N500,000 which was previously announced on December 6, 2022.
However, the central bank, in an updated circular dated December 21, 2022, and addressed to all Deposit Money Banks (DMBs) and Other Financial Institutions, Microfinance Banks, Mobile Money Operators, and Agents, explained that the upward review was, as a result of the feedback it received from stakeholders.
The correspondence was signed by CBN Director, Banking Supervision Department, Mr. Haruna Mustafa.
The CBN stated that in compelling circumstances where cash withdrawal above the limit is required for legitimate purposes, such request shall be subject to a processing fee of three per cent and five per cent for individuals and corporate organisations respectively.