Vitafoam Nigeria Plc saw a +0.26% rise in its net income margin with an +8.53% improvement in its acid test ratio, increasing from 0.95X to 1.03X, suggesting improved liquidity. The foam maker saw revenue grow by over +30% while sales costs surged forward by +35.9%. The company's rising debt seemed manageable but lifted a few analysts' eyebrows.
Key Highlights
Revenue increased by +32.91% from N26.83 billion in the first nine months of 2021 to N32.91bn in the first nine months of 2022.
Sales costs increased by +35.90% from N17.27bn in 9months 2021 to N23.47 bn in 9month 2022
Finance costs declined Year-on-Year (Y-on-Y) by-1.96%
Profit before tax increased by +38.27% year on year to N6.54 billion in 2022.
Basic and diluted earnings per share climbed by +37.93% to N335.62k in 9M 2022 compared to N243.32k in 9M 2020.
Equity increased by +33.05% from N11.62bn to N15.46bn.
Total debt rose by +35.86% to N12.39bn in 9month 2022.
Total assets appreciated by +33.05% to N15.46bn.
Share Price Movement
Vitafoam Nigeria's share price has trekked a linear path with moderate volatility. The price has repeatedly retested its resistance level of N24.45k, with a support level of N20.25k. However, the price has stayed stable at N20.0k in October, falling from N22.45k on September 27th to N20 on October 18, 2022. The year-to-date (YTD) return on Vitafoam shares dropped -1.23%, from N20.25k (see chart 1 below).
Chart 1: 
Revenue
The company's nine-month (9M) 2022 financials reported a +32.91% year-on-year (Y-o-Y) increase from N26.83bn to N35.66bn in 9m'2021. The principal geographical region of the company accounted a major part of its turnover, seeing a +35.91% rise over the preceding year of N26.39bn. However, export revenue fell over the last two years, from N451.96mn in 2020 to N435.53mn in 2022. Analysts observed that the company's revenue performance was affected by the firm's reliance on foreign exchange for raw materials, despite growing forex difficulties (see chart 2 below).
Chart 2: 
Source: Vitafoam Nigeria Financial Statement, Proshare Research
Profit Before Tax (PBT)
The manufacturer saw its earnings before taxes rise to its highest recent level in 2022. PBT grew by +38.27% as a result of a significant rise in top-line earnings. The growth in top-line earnings was aided in part by a +23.98% increase in operating profit, which rose from N5.13bn in 9M 2021 to N6.36bn in 9M 2022. Finance income increased by +546.29% Y-o-Y, while finance costs declined by -2.14%, from N507.43m in 2021 to N496.57m in 2021. Analysts noticed that the decline in finance expenses was a one-line decrease caused by a -15.15% drop in interest on term loans (see chart 3 below).
Chart 3: 
Source: Vitafoam Nigeria Financial Statement, Proshare Research
Current Assets
The current ratio fell from 1.61X in 2021 to 1.58X in 9m'2022. This was caused by a +9.25% rise in short-term borrowing and a +59.93% increase in payables, resulting in a +46.34% rise in short-term obligations. Among the overall rise in current assets, cash and bank balance climbed by +24.11%, from N10.7bn to N13.28bn (see chart 4 below).
Chart 4: 
Source: Vitafoam Nigeria Financial Statement, Proshare Research
Acid Test Ratio
With the exclusion of a +22.01% increase in inventories, the acid test ratio improved by +8.53% year on year from 0.95x to 1.03x. In hindsight, the ratio increased by +66.81% in 2020, when the company had a 1.05x, and then fell somewhat in the following years. Analysts highlighted that the business has written down N107.22mn worth of inventories, with other consumable products such as diesel, PMS, and promotional items rising by +141.32% (see chart 5 below).
Chart 5: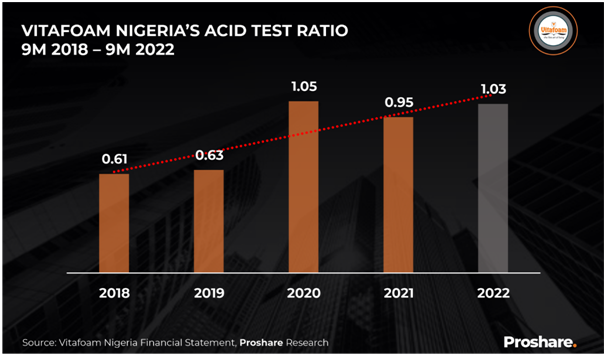 Source: Vitafoam Nigeria Financial Statement, Proshare Research
Asset Turnover Ratio
Despite the increase in its asset base, the company's asset turnover ratio was 0.99. Showing that 0.99k was generated for every N1 of assets employed in the course of its operation. Across the components of total assets, the company saw a decline of -2.47% and -6.96% in fixed assets and investment in financial assets, respectively (see chart 6 below).
Chart 6: 
Source: Vitafoam Nigeria Financial Statement, Proshare Research
Debt-to-Equity Ratio
The company saw an increase of +2.11% in its leverage ratio. This was supported by a +35.87% Y-o-Y increase in total borrowings, which rose from N9.12bn to N12.39bn. The debt-to-equity ratio increased from 0.78 in 9M'2021 to 0.80 in 9M'2022. Despite an increase in total borrowings, Equity climbed by +33.05% from N11.62bn to N15.46bn (see chart 7 below).
Chart 7: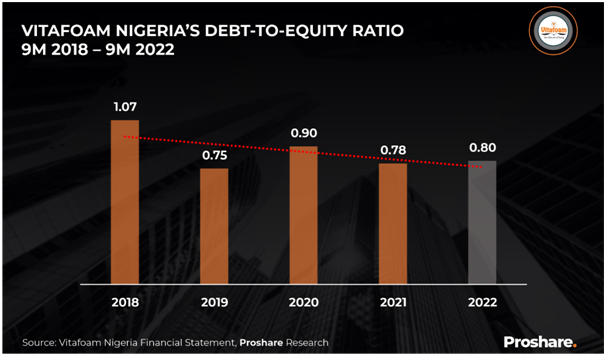 Source: Vitafoam Nigeria Financial Statement, Proshare Research
Closing Thoughts
Through its backward integration efforts, Vitafoam Nigeria has continually maintained a market-driven model in a high-dependency economy with low discretionary income and foreign exchange constraints by focusing on product diversity and market penetration.
However, growing inflation, which has resulted in low customer disposable income, continues to be a major concern. The company's export division declined consecutively in two periods, due to a +32.80% increase in freight costs. Nevertheless, full-year 2022 outcomes are projected to be modestly improved.
Illustration 1