Recently, reports emerged that the Federal Government of Nigeria has hatched plans to borrow more in the bid to fill the deficit that its highly ambitious budget estimates would create for 2022. At a public hearing where this was culled, the Director-General, Debt Management Office (DMO), Patience Oniha, expressed concerns about the country's rising level of debt stock amid declining revenue. In her words, despite being conservative in the 2021 budgeted revenue, actual revenue still lags performance, an offshoot of the drag in oil receipts in the year. Thus, borrowings remain inevitable, pushing debt stock to new increasing levels with an attendant impact on the government's revenue position vis-Ã -vis debt servicing charge.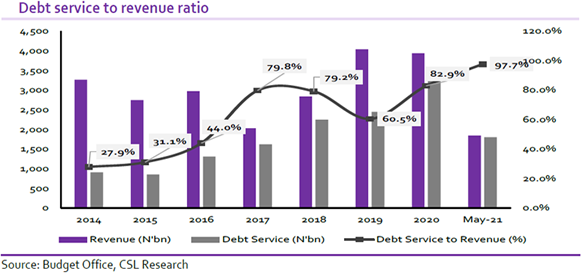 In recent times, Nigeria's debt profile has gained widespread attention, owing to slower growth in government revenue compared to the surge in debt stock. This development has further been amplified by the state of its cost to revenue ratio, one of the key indicators to assess debt sustainability. As of May 2021, the country's debt service to revenue ratio sat precariously at 98%, indicating that for every N1 earned, N0.98 was spent on debt servicing. Meanwhile, overheads and statutory spending have continued unabated, amid a growing infrastructure deficit. More worrisome also is the lack of a clear-cut direction on how it intends to efficiently manage expenditure, a sign of looming fiscal distress.
As of 31 March 2021, the nation's public debt stood at N33.1tn, and with further borrowings (FCY and LCY) by the horizon, we expect total debt stock at c. N38.4tn by 31 December 2021. As such, the country is facing another wake-up call on the need to diversify its earning sources via improved tax net and optimize collection process, extend, and concentrate more on tapping into other areas of the economy like tourism. Although, improving current macro conditions appears to be a silver lining in terms of improved accretion from the current earning sources, we reiterate our agelong clamor for the diversification of the nation's earning sources.