Lafarge Africa's 9M 2022 result showed strong top and bottom-line growth. The increases resulted from higher product prices and a -46.01% decline in finance costs. The group's return on equity (ROE) and return on assets (ROA) rose to 0.48 and 0.66, respectively.
The results showed a +33.28% rise in variable costs from N65.96bn in 2021 to N87.91bn in 2022, driven by foreign exchange challenges related to a sharp increase in energy and raw materials costs.
Key Highlights
Revenue was up by +23.11% from N219.19bn recorded in 9M 2021 to N269.85bn recorded in 9M 2022
PBT inched up by +22.88% to 53.94bn in 9M 2022, while PAT increased by +11.15% to N44.89bn in 9M 2022 compared to N40.39bn in 2021
Total assets increased by +10.40% in 9M 2022 from N512.36bn in 9M 2021
Total equity rose from N383.92bn in 9M 2021 to N407.35bn in 9M 2022 by +6.10%
Earnings per share (eps) climbed to 279kobo in 9M 2022 from 251kobo in 9M 2021 by +11.16%
Finance income and finance cost declined by -23.72% and -46.01%, respectively
Share Price Movement
Lafarge cement's share price movement year-to-date (YTD) showed moderate volatility, fluctuating between a resistance price of N31.75k on May 12, 2022, and a support price of N22.6k on July 28, 2022 (See chart 1 below)
Chart 1:
Revenue
As high inflation continues to tighten customers' wallets, the demand for Lafarge cement remained strong, pulling up its top-line earnings by +23.11% from N219.19bn in 9M 2021 to N269.85bn in 9M 2022. The cement segment contributed N261.46bn to the group's total revenue, followed by the aggregate concrete revenue growing by +46.02%, while revenue from other products closed the period under review at N384.1m from N157.67m in 9M 2021 (See chart 2 below) 
PBT
Profit before tax has steadily risen in the past four years, rising from N20.13bn in 9M 2019 to N53.94bn in 2022. Finance cost rose to N5.63bn in 9M 2021 from N3.04bn in 9M 2022. In addition, given its low Capex spending policy, the company saw interest on borrowings fall by 74.86%. (See chart 3 below)
Asset Turnover Ratio
Lafarge Cement has reported continuous growth in its asset turnover ratio from 2020; it attained its highest turnover ratio in 9M 2022. The asset turnover ratio rose from 0.43 to 0.48. Analysts attributed the growth to a strong increase in sales volume in cement aggregates and concrete, cement, and the sales of other products. (See chart 4 below)
Return on Equity
The return on equity ratio grew after it experienced a huge decline between 2018 and 2019. The cement company recorded a +16.03% rise from 0.57 in 9M 2021 to 0.66 in 9M 2022. (See chart 5 below)
Current Ratio
The current ratio grew modestly from 1.04 in 9M 2021 to 1.12 in 9M 2022, given the +38.81% increase in short-term assets, while short-term liabilities rose by +29.11%. Analysts noticed that the current ratio improved because of a +52.48% increase in cash and cash equivalent, which grew from N52.92bn in 9M 2021 to N80.69bn in 9M 2022. (See chart 6 below)
Acid Test Ratio
The acid test ratio increased in 9M 2022, from 0.69 in 9M 2021 to 0.75 in 2022. Both short-term assets (excluding inventories) and short-term liabilities grew by +40.84% and +29.11%, respectively. (See chart 7 below)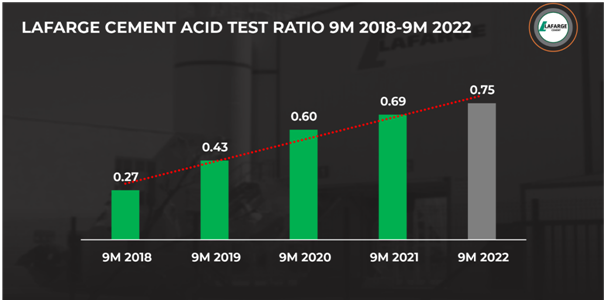 Leverage Ratio
In 9M 2022, the company's leverage ratio increased modestly to 0.08 from 0.06, indicating it financed its operations through shareholder's equity rather than debt. However, over time Lafarge cement has been positioned to be less indebted, with a leverage ratio of less than one. (See chart 8 below)
COMPARATIVE ANALYSIS
The three major cement competitors in Nigeria, Dangote Cement, BUA Cement, and Lafarge Cement, showed a strong performance in 9M of 2022 amidst harsh global and national economic headwinds.
The recently released 9M results showed a total industry revenue of N1,709.8trn, with Lafarge cement coming second at N269.9bn, while Dangote led with N1,177.3bn and BUA Cement had the least at N262.6bn.
Lafarge cement's profitability improved to N53.9 in this period but generated the least profit before tax (PBT) amongst its peers. BUA cement came second with N88.8, while Dangote recorded the highest PBT at N335.9.
Excluding inventories, Lafarge cement had the highest liquidity ratio in 9M of 2022, propelled by an increase in current assets, reflecting an improved capacity to cover its debt obligations. A look at the company's balance sheet showed that Lafarge relied heavily on its equity rather than debts, reflecting a low leverage ratio of 0.08 compared to rivals at 0.85 and 0.56 for both Dangote cement and BUA cement, respectively(see chart 9 below).