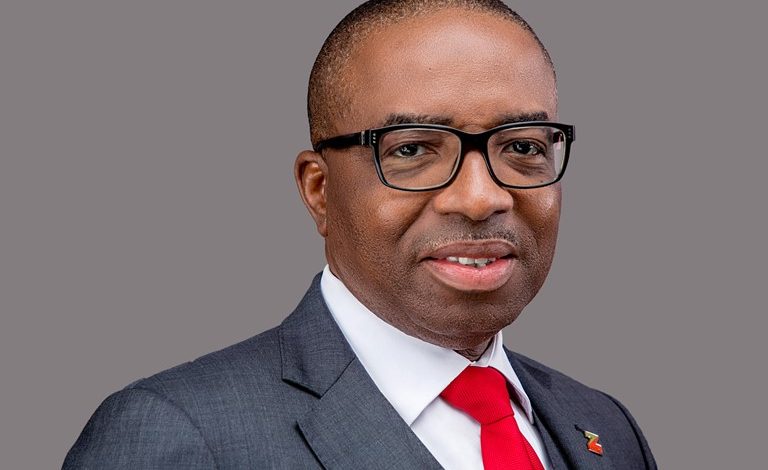 ZENITHBANK Declares N106bn PAT in H1 2021 Audited Results; Proposes 30K Interim dividend
Ebenezer Onyeagwu , Managing Director / Chief Executive Officer , Zenith Bank Plc evokes brilliance ,resilience and resourcefulness of hardworking CEO who has resolved to lift the banner of his bank to a lofty height . Since he mounted the mantle of the bank's leadership he has kept his words . Zenith Bank remains the Nigeria's biggest bank by profitability .
Though it had gross earnings slowing in the second quarter of 2021 but the management wrenched up bottom line with a deft application of management's experience beginning from leveraging net interest income.
The survival and competitiveness of any commercial bank rests on its ability to lend safely and profitably . When it is said that one is a good banker ,what ,in fact ,is meant is that one is shrewd lender , lending money safely and profitably . This is the most herculean task confronting any bank leadership and it manifests in its Net Interest Income ,NII. . NII is sensitive to both credit risk and market risk. Market risk is essentially interest-rate risk for loans and deposits. Interest-rate risk will be driven by the maturity structure of the loan book, as well as the match (or mismatch) between the maturity of the loans against the maturity of the funding. This is known as the interest-rate gap.
Ebenezer Onyeagwu has ,indeed, developed iron teeth to break this hard nut .

The bank's management ,no doubt , put in place a coherent, articulated strategy in place that sets the tone for the entire business, from the top down.
Taking into account the current regulatory environment,. the board of the bank formulated its strategy with a clear and genuine understanding of the environment in which it operates .Followed by the bank determination of markets it wishes to operate in, products it sells and the class of customer it wishes to serve, all its individual business lines are set up to operate within its main strategy having identified the markets and customers as all the business lines exist as ingredients of the strategy . This strategy paid off as it averted the negative impacts of the deleterious environment . The lower yield environment is the hard nut .Sequel to this , the bank's interest income dipped by -6.00%, despite the increase in interest-bearing assets. For instance , its Gross loans rose by +6.90% Y-o-Y to N2.99trn in H1 2021 from N2.79trn in H1 2021.
The impact of this is clear . Zenith Bank Plc's H1 2021 audited result showed a fall in earnings ; its revenue slipped by – 0.2% to N346bn from N346bn in the previous quarter. If anything, a racy earning assets figure should result in more robust earnings except may be spreads or the difference between interests earned and interests paid are not quite attractive. It could also be because commissions from non interest dependent transactions are dropping. However , Ebenezer Onyeagwu led management had the joker that averted the misfortune . By hauling up Net interest income by +1.61% Y-o-Y to N159.94bn from N157.41bn in H1 2020 in spite the deleterious operating clime , Zenith Bank showed that it's not what you get but what you make out of it that matters. Net interest income, which is a guide to how well a bank manages the interest rates it pays for borrowing and lending, still jumped some paces to give a positive outlook to pre-tax profit. To achieve this , it suppressed the interest expenses by 26% to NGN44 billion in June 2021 from NGN60 billion in June 2020 resulting in an increase in net interest income from NGN157 billion to NGN160 billion in June 2021 . The drive for increased retail deposits and a low-interest yield environment helped reduce the cost of funding from 2.2% to 1.3% in the current period. The bank also controlled the credit risk . First , it took a path of caution . The group's loan-to-deposit ratio declined by -9.11% Y-o-Y to 51.90% . Although , the Group grew its risk assets as gross loans were up by 3% YTD, from NGN2.92 trillion to NGN2.99 trillion , this was conservatively achieved at a low Non-Performance Loans (NPL) ratio of 4.51% (FYE 2020: 4.29%) and a reduced cost of risk of 1.3% (June 2020: 1.8%). . In spite the above efforts , its Net interest margin dipped by -27.78% to 6.50% in H1 2021
However , this management is smarter .The management reached out for its fee and commission income to stabilize its earnings . This is usually the case in the time of economic recession and or interest rate volatility . The Group recorded a 9% growth in non-interest income from NGN116 billion in June 2020 to NGN127 billion in 2021 . Fee income is very popular with bank senior management because it is less volatile and not susceptible to market risk like trading income or NII. There is also no credit risk because the fees are often paid up front. There are other benefits as well, such as the opportunity to build up a diversified customer base for this additional range of services. Its trading income also at N59,275 in June 2021 compared N58,832 a year ago is also very impressive . Banks generate trading income through trading activity in financial products such as equities (shares), bonds and derivative instruments. Trading income is the most volatile income source for a bank. It also carries relatively high market risk, as well as not inconsiderable credit risk.
However , its Impairment loss on financial and non-financial instruments though decreased from 23,923 to 19,799 is still huge and a big drawback to its bottom line
. Overall, the significant reduction in interest expense by 26% and growth in non-interest income by 9% gave rise to improved profitability
However, the low-interest environment also affected the net interest margin, which declined from 9% to 6.5% in the current year due to the re-pricing of interest-bearing assets.
Operating expenses grew by 10% YoY but growth remains below the inflation rate.
Pre-tax profit of the leading bank, buoyed by 3 percent in the period to N117bn from N114 billion.
This helped to shoot up pre-tax profit margin to 33.9 percent, up from 33 percent. with that rise in pre-tax profit, the bank's net profit flew 2.2 percent to N106 .1bn from N103.8 billion in the period, leading to a rise in net profit margin to 30.7 percent from 29.9 percent. The second quarter result is a continuation of another attempt to wring good profit as was done in the last financial year, in its attempt to reaffirm leadership of the sector.
In that year, the bank's profit before tax (PBT) was N 255.9 billion, up 5.2 per cent from N 243.3 billion in 2019 ; while profit after tax (PAT) was N 230.6 billion in 2020 , up 10.4 per cent from N 208.8 billion in 2019 , in a somewhat fragile economy that is recovering from recession.
Although returns on equity and assets also reduced from 21.5% to 18.5% and from 3.0% to 2.5%, respectively, the Group improved its Earnings per Share (EPS) which grew 2% from NGN3.30 to NGN3.38 for the half year ended June 2021.
The bank's total assets grew marginally to NGN8.52 trillion as at 30 June 2021 from NGN8.48 trillion as at 31 December 2020 ; while shareholders' fund grew marginally by 2.3 percent from N1.12tn to N1,143,447 to N1,117,473 .
For such weighty shareholders' fund, it is natural to pull in heft deposits as total deposits grew by 8% to close the period at NGN5.77 trillion, which demonstrates growth in the Group's market share.
The Group's retail journey continues to deliver positive results. Retail deposits grew by NGN38.2 billion from NGN1.72 trillion to NGN1.76 trillion year-to-date (YTD). Savings balances grew marginally by 2% YTD to close at NGN1.18 trillion from NGN1.16 trillion as at December 2020. The drive for increased retail deposits and a low-interest yield environment helped reduce the cost of funding from 2.2% to 1.3% in the current period.
But it was the bank's ability to meet and surpass regulatory guidlines that was the highlight of the full year results. Interest expenses were managed down by reduced by 26 per cent, as the bank's stock of low-cost deposits increased, with interest paid on time deposits declining the most . Despite the challenges imposed by the COVID-19 pandemic and the challenging operating environment, the Group grew its risk assets as gross loans grew by 3% YTD, from NGN2.92 trillion to NGN2.99 trillion.
This was conservatively achieved at a low NPL ratio of 4.51% (FYE 2020: 4.29%) and a reduced cost of risk of 1.3% (June 2020: 1.8%).
Prudential ratios such as liquidity and capital adequacy also remained above regulatory thresholds at 69.9% and 22.0%, respectively.
Despite the continued prevalence of COVID-19, there is a cautious optimism that the global economy will continue to recover as vaccination programmes are intensified.
Locally, Nigeria's GDP grew by 5.01% in the second quarter and inflation which peaked in March 2021 at 18.17% is gradually trending down (currently at 17.38% as at July 2021).
The Group is well-positioned to maximise the opportunities that these recovering fundamentals present while leveraging e-technology to expand the retail footprint to deliver improved returns to all its stakeholders.
.The current share price of Zenith Bank Plc is NGN 24.10. It closed its last trading day as at Friday, September 3, 2021 at 24.10 NGN per share on the Nigerian Stock Exchange (NGX), recording a 0.2% gain over its previous closing price of 24.05 NGN.
Zenith Bank is the third most traded stock on the Nigerian Stock Exchange over the past three months (Jun 4 – Sep 3, 2021). It has traded a total volume of 771 million shares—in 18,111 deals—valued at NGN 18.5 billion over the period, with an average of 12.2 million traded shares per session. A volume high of 45 million was achieved on June 18th, and a low of 1.67 million on August 4th, for the same period.