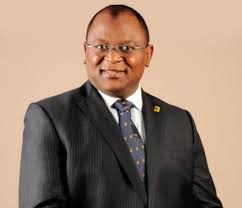 First Bank ,Nigeria's oldest bank , had gross earnings inched up by 28% in the full year 2021; however , it wrenched up bottom line phenomenally by 99.9% with a deft application of management's experience beginning from leveraging its non Interest income by 96% and competitive cost to income ratio .
With the release of its 2021 full financial results recently , the red ink blotting the progress of First Bank Plc has been dabbed off almost finally, leaving not only promises of a perpetual stay within the black lines of highly competitive profitability but also signaling a strong return to the industry leadership position
The results were ,indeed, a big turnaround . Practically all performance metrics looked up ;the Bank's gross earnings inched up by 28% in the full year 2021. While the growth registered by the bank in gross earnings is outstanding ,however , its ability to wrench up its pre tax and post tax profit phenomenally by 91% and 99.9% respectively with a deft application of management's experience beginning from leveraging its non Interest income by 96% is unmatched by any player in the industry . To achieve these supersonic jumps , in an absolute term ,its Profit before income tax increased to N166.7b from N83.7b while its Profit for the year hit N151.1b from N89.7b .This helped to shoot up pre-tax profit margin to 22 percent up from 14percent and to a rise in net profit margin to 20 percent from 13 percent.
To cement its improved profitability, the bank's return on equity (ROE) and return on assets (ROA), improved to 18.8 per cent and 1.8 per cent in 2021 from 12.6 per cent and 1.3 per cent respectively in 2020.
Commenting on the results, Dr. Adesola Adeduntan, Chief Executive Officer of FirstBank Group said:
"Following years of strategic restructuring of the Bank's balance sheet and operations, the Commercial Banking business is beginning to transition into a sustained growth phase delivering performance commensurate to the size of our business and capabilities of our people. Gross earnings 30.3%, total assets 15.9% and customer deposits up 19.5%. ", the bank's CEO noted
This performance, according to its CEO, was driven by a relentless focus on the needs of customers and improving the competitiveness of the bank's offerings. "We have sharpened our 'Go To Market' approach to better leverage the opportunities which our large scale provides in addition to becoming more relevant to our clients by improving our value propositions.
" It is also in line with the Bank's Quantum Profitability Leap agenda which seeks to ensure that we fully maximise the revenue generating capacity of our business to boost the bottom line and fulfill the expectations of all stakeholders in the business", Adeduntan noted .
He said the demonstrated resilience of the bank's franchise to headwinds and excellent risk management capabilities place the bank in a good position to weather any macro-economic shocks which might arise due to the volatile nature of current operating environment.
This brilliant performance has confirmed the confidence the investors expressed on the management of First Bank that lifted the value of its stock per share since last year; ever before the latest results were released ,its stock price had taken an upward swing beating its rivals among tier 1 banks in term of the returns delivered to the stock investors. A look into its current share price performance indicated its stock has delivered mouth-watering values with 60.8 % per share increase in the past one year. By this, FBNH exceeded the industry which returned 12.7% and the market which returned 26.2% over the past year.
Also, by its current results , the bank's earnings per share further affirms a return of better value for which it was known for before 2015 downturn . A good way to determine earnings to the investor is the Earning Per Share (EPS),which is the monetary share value, i.e., what every share issued by the bank will receive from declared earnings. The higher the EPS, the more profitable the bank is. With the release of the 2021 results , its EPS was boosted; full Year EPS for First Bank comes to about 4.17 per share in 2021 as compared to 2.45 per share in 2020 ,a 70.2% increase
When it comes to dividend yield, a metric which brings in the market price of the bank stock and the cash dividends paid by the bank that consequently indicates the actual cash that flows back to the investor, First Bank investors are equally receiving higher cash yield per invested share . When the dividend yield of First Bank shares is compared with other non-equity products like Treasury Bills and Commercial paper, it also delivers a better value and so makes it preferable because an investor could get a higher yield at a lower price.
The stock is believed to be cheap, selling currently below its fair value based on its strong fundamentals delivered by its current results .This is indicated by its Price to Earnings Ratio (P.E.) and price to book ratio .First Bank Holdings' current trading price represents a Price-To-Earnings ratio of 2.5x and Price to Book ratio at 0.5x which are below the market (8.7x) while Earnings grew by 146.7% over the past year Moreover , the current results have been positively impacting the bank's fortunes . While ts stock traded N10.75 per share on Thursday , May 26th at Price Earnings ratio of 6.2x and Price to Book ratio of 0.5x when the latest results were released ; however , the second day Friday,May 27, 2022, it jumped to N11.50 per share on the Nigerian Stock Exchange (NGX). Compared to its rivals and the market this indicates a strong potential to deliver better values to investors in the future who could take the opportunity of buying the stock at the current price .Furthermore , with its 'Residual Income and price multiples on forecasted fundamentals and historical metrics, investors are advised to take advantage of this attractive yield as we place a "HOLD" rating on this stock.
Since 1894 when First Bank Plc opened shop as Standard Bank Nigeria, the banking elephant has been a sight to behold- big, strong and reliable– as the corporate slogan says . Despite this, its corporate journey of a one hundred and something years, no doubt , is littered with the good ,the bad and the ugly; most especially ,the last few years had not been so palatable experience for its management. The ill winds that hit hard the oil and gas prices at international market in 2015 wrecked untold havoc on the Nigerian banking industry did not spare it either ;massive bad and delinquent loans stared the management in the face leading to less competitive profitably liquidity squeeze and capital diminution
Two major drivers behind its return to strong competitive position include the strong quality of leadership behind the wheel and its brand equity that make it irresistible to customers over the years . The ugly scenario that started from 2015 notwithstanding, the credibility of the brand believed to be unmatched in the industry as well as the strong pedigree of Mr Adesola Adeduntan , its CEO that took over that same year this challenge cropped up ,made its stakeholders highly unperturbed. More so, right from the assumption of office Adeduntan had displayed strong courage and assured all the stakeholders that he has what it takes to tame the challenge he met on ground.
He did not disappoint; he, indeed, lived up to that expectation. Beefing up internal resources and competencies, taking charge of the impacts of external environment to exploit emerging opportunities and taming threats ,he creatively devised relevant strategies and executed them to meet stakeholders expectations .The bank under his leadership battled fiercely with every available weapon the bad and delinquent loans suffered due to the collapse of oil prices at the international market that impacted negatively on its loans portfolios of its oil and gas sector ; it also grappled with the challenge of competing in a harsh regulatory and competitive environment .
.The management was at work, sleeves rolled-up, digging a trench for bad and delinquent loans and entrenching good governance with full disclosure .This threat and the deleterious environment eventually slowed down its momentum at the bottom line .Notwithstanding , with deft experience of the management , the bank remained profitable ,liquid ,sound ,solvent and healthy throughout under his eagle watch.
However ,with its recently released 2021 full and final year results , First Bank has ,indeed, almost put that ugly past behind itself ; the elephant is now all aglow, .dazzling the market with elephantine profitability. Indeed, the nimble elephant has raised a new hope for matching and surpassing the nimble foxtrot and leading new generation banks in critical performance metrics in the next one year or so , barring any unforeseen circumstance.
THE PROFIT ENGINE THAT DELIVERS THE MEGA BULK
What drove the strong bounce back of First Bank in 2021?
By the time Adeduntan took over as First Bank's CEO the foundations  of the bank's past had  shaken and fractured  as  the industrial terrain changed shape  faster  than the past top management could refashion its basic beliefs and assumptions on which markets  to serve ,which technologies  to  master ,which customers to serve and how to get the best out of employees.
However , he was unperturbed . He started the job of rewriting the rules of the game, fundamentally re conceiving the bank , regenerating its core strategies and of reinventing its industry. Also , certain commitments were made by him to particular skill areas on his arrival ;and instead of spending much time worrying about how to position the bank  in existing competitive space, he started creating fundamentally new competitive space to tame the challenges before him .
Adeduntan remains his own toughest competitor.The reason behind this may not be farfetched. . In global competition, the only defense is a vigorous offense. The best way to ensure that one is not at risk from more imaginative competitors is to be the first to conceive of alternate value delivery mechanisms, the first to cannibalize one's own products and services, and the first to get to the future, even when the future undermines the past success.
Regularly in touch with industry trends and potential discontinuities, he was able to fast forward corporate history and glean a preview of what might bring the current profit engine to a grinding halt .; by articulating major fundamental industry trends threatening his bank's continued success, he was able to gain the full control of his bank's destiny
 He embarked on balance sheet clean-up and this ,according to Nnamdi Okonkwo, the Group Managing Director, is about to be completed ."I am very proud to have assumed the role of Group Managing Director of this great organisation in January 2022 and I am excited about building on the momentum of recent positive developments", Okonkwo declared .
THE FIGURES ,THE FUNDAMENTALS THAT DELIVER COMPETITIVE ADVANTAGE
One these skill areas is  by ensuring robust  risk management . Bank management, no doubt , is  coterminous with risk management .First Bank, a strong pillar of Nigeria's economy , has a large heart for risk taking or lending . In 2021 it  took  a bigger risk compared to the previous year, growing its loans and advances    by 30.0%  to ₦2.9 trillion .This pushed its  total assets up by 16.2% to hit  ₦8.9 trillion.
The reason behind this may not be far to seek .First , loan is ,for instance , the highest earning asset in the balance sheet ; it contributes materially to the achievement and fulfillment of the objectives of profitability by providing higher return  than other financial assets
However, Nigeria as the operating terrain for the players in the banking industry is highly deleterious and getting impressive return from this core banking income segment is as difficult as breaking a hard nut . This is so because managing the risk of mismatches between assets and liabilities and between borrowing and lending rates became so daunting and herculean. The same scenario played out in 2021 The moderated interest rate environment negatively impacting yields led to a backtrack in the interest income by 4.1% to ₦369.0 billion (Dec 2020: ₦384.8 billion) as its earning yield declined from 9.3% in 2020 to 7.3 % in 2021 while its cost of fund declined to 2.1% from 2.3% in 2020 .
Despite this ugly scenario, the management of First Bank still remained undaunted .In order to mitigate the effect of the low interest rate on investment securities and revenue generation, it deliberately intensified deposit mobilization and funding strategy to support enhanced loan growth at optimized rates leading to a marginal 5.7% increase in interest expense to ₦140.8 billion compared to ₦133.2 billion in 2020 ).
After the interplay of forces between interests paid and those received ,'its net interest income , which is a guide to how well a bank manages the interest rates it pays for borrowing and lending, succumbed to pressure from the cost handle At the end of the year, its net interest income fell by 9.3% to N228.2b from N251.6b in 2020 . This consequently brought down its net interest margin from 6.1 to 4.5% in 2021. The implication of this is that the bank looked better last year in returns to investment than this year . In the period under review, the bank got N62 for every N100 of interest earned compared with N65.40k in 2020.
If anything, a racy earning assets figure should result in more robust earnings except may be spreads or the difference between interests earned and interests paid are not quite attractive. It could also be because commissions from non interest dependent transactions are dropping. For First Bank in 2021 as indicated by the above analysis ,the spreads or the difference between interests earned and interests paid are not quite attractive leading to a fall in its net interest margin . However , , it is the opposite in the case of the commissions from non interest dependent transactions .
This may not be unexpected. A good manager of a financial institution or bank usually rev up its non interest income item of its balance sheet because it holds the key to stabilizing earnings at a time the world or country is in recession and interest rates volatility is a factor .
Sequel to the above strategic move by the management ,its non-interest revenue grew by 96.1% to ₦364.6 billion (Dec 2020: ₦185.9 billion) on the back of increased fees and commission income, treasury activities and other operating income. Further details show fee and commission income hit N140.6b from N113.2b, a 24% increase while its Fee and commission expense only increased by 23% to N23.9b from N19.5b leading to a 24% increase of its Net Fee and commission income from N93.8b to N116.6b 38.
While the 24% increment recorded in fee and commission income is regarded as impressive by analysts , what actually boosted the non interest income segment came from supersonic jumps from its Foreign exchange income ,Net gains from financial instruments at FVTPL and dividend income which increased by 383% ,126 % and 64% respectively ; in an absolute term they increased to N7.0 b from N1.5b , N53.7b from N23.8b 775 and N6.5b from N4.0b respectively
However ,while Net losses on sale of investment securities hit N31.3b from N48.1b signaled a spoiler to the gains recorded in its non interest income ,it was too negligible to inflict a significant damage on the fortune of the bank . Looking ahead, the bank said it would continue to grow non-interest income to further diversify revenue.
The joker is not from the non interest income segment alone , another metric that delivered a landmark fortune to First Bank is ability to control its operating costs despite the inclement macroeconomic environment. As a result of the significant improvement in efficiency, the bank's cost-to-income ratio settled at 56.4 per cent from 66.8 per cent in 2017. In 2021, FBNH operated in a challenging operating environment that was pressured by high inflation and currency devaluation, the effect of which increased operating expenses by 14.2% to ₦334.2 billion (Dec 2020: ₦292.5 billion). However, this 14.2% is below the inflation level (Dec 2020: 15.6%) whilst regulatory cost also rose during the period, up 23.2% y-o-y. Despite the inflationary push factors, operating income grew 35.5% to ₦592.8 billion (Dec 2020: ₦437.6 billion), resulting in an improvement in cost to income ratio to 56.4% (Dec 2020: 66.8%).
Ultimately , the positive impacts of the supersonic jump in its non interest income as well as its dramatic improvement in its cost to income ratio delivered better profit margins and earnings per share highlighted above ,giving a big turnaround and hope for regaining its leadership position in the industry .
Deposit from Customers increased by 19.5% y-o-y to ₦5.9 trillion (Dec 2020: ₦4.9 trillion) reaffirming our strong market access and robust funding base. Its investment in agent banking, digitalisation and deployment of digital platforms which its customers have adopted, improved customer penetration and deepened its solid retail franchise. This continues to provide the bank with access to stable funding, reducing its cost of fund ratio to 2.1% (Dec 2020: 2.3%) while supporting the float of its current and savings account (CASA) at 91.2%
Also its total assets grew 16.2% y-o-y to ₦8.9trillion (Dec 2020: ₦7.7trillion) driven by a 30.0% y-o-y increase in customer loans and 26.3% increase y-o-y in investment securities. Cash and balances with Central Banks, loans to banks & customers and investment securities constitute 87.2% of total assets (Dec 2020: 83.4%).
The bank has continued to record progress in Asset Quality and Risk Management stemming from its retooled and strengthened risk management architecture. On the back of this, non-performing loan ratio further declined to 6.1% (Dec 2020: 7.7%) while coverage ratio improved to 62.2% (Dec 2020: 48.0%). "Our Non-performing loans ratio at the end of the year was 6.1% which represents significant progress towards those of other Tier 1 banks and the regulatory threshold of 5.0%.We will continue to leverage our investments in digital platforms, IT infrastructure, people, and pan-African operations to ensure this growth trend is sustained", the bank's CEO declared
However , though its non performing loan ratio improved the bank needs more robust risk management framework to ensure its cost of risk is reduced significantly .In the period under review its cost of risk increased to 3.2% from 2.5% per cent in the prior year . This could be achieved through the reduction in impairment charges to register a more enhanced asset quality. In the same breadth, its coverage ratio though increased marginally in 2021 should be increased further to give it a prudent disposition con sistent with the bank's known record of excellent credit risk management.
The bank's balance sheet was robust as the loan to deposit ratio, liquidity ratio and capital adequacy ratios were all well above the regulatory threshold . With a cleaner balance sheet and resilient earnings generating capacity, FirstBank (Nigeria) was able to accrete capital buffers from organic earnings. Hence, despite the increase in loans and advances, Capital Adequacy Ratio (CAR) remained steady, marginally increasing to 17.4% (Dec 2020: 17.0%).