News
FEC approves N2bn for local aircraft assembly in Zaria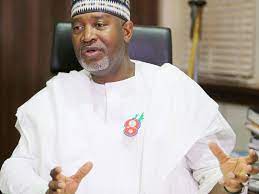 The federal executive council (FEC) has approved the sum of N2.29 billion for the assembling of Hungarian Magnus light aircraft at the Nigerian College of Aviation Technology (NCAT), Zaria, Kaduna State.
The council gave the approval on Wednesday at a meeting presided over by Vice-President Yemi Osinbajo in Abuja.
Speaking after the meeting, Hadi Sirika, minister of aviation, explained that the renewed demand for the "spin recovery aircraft" necessitated the production of the light aircraft which he said was durable for the training of military and civilian pilots.
Sirika said the first set of the assembled aircraft is expected to fly within the last four months of the Muhammadu Buhari's administration.
Advertisement
He disclosed that his ministry presented two memoranda bordering on the local assemblage of the Magnus aircraft and a review of the cost of instrument landing system (ILS) in three airports by an additional N546.1 billion.
"We had two memoranda in council. The first one is the procurement and assemblage of Magnus Centennial aircraft and stimulator in Zaria," Sirika said.
"So, I'm happy to announce today is the reality. We will indeed assemble the Magnus aircraft and will continue to do so and [in] not too distant future by God's grace, the industry of civil aviation will begin to manufacture right here in the country. But [we're] beginning by assembling these training aircraft.
Advertisement
"So, the memoranda have been passed in council. The manufacturer of the airplane is based in Hungary, and has a local company called Ingenious to be done in Zaria. And the total contract sum is N2,296,897,404 with the completion period of 18 months."
A TRAINING AIRCRAFT
The minister explained that the Magnus aircraft is a 'spin aircraft'.
According to Sirika, the world of civil aviation stopped its training program [on] the spin and spin recovery – a navigation skill pilots must have.
Advertisement
He said 'spin' literally means to "spin something in an unusual altitude that our club go through", and therefore, students are taught to identify when they get into a spin situation, and how to recover out of the situation before it becomes a disaster.
The minister, who said many pilots were trained on the skill, added that the need for spin and spin recovery eventually petered out as aircrafts became more technologically advanced and sophisticated.
"But again, they all realise that we still get into spin or there is a need for this skill to be developed for recovery out of spin situation," Sirika said.
"So, most manufacturers stopped producing trainers for that purpose. And so, there are not many people now that manufacture.
Advertisement
"The company in Messrs Maganus, realised that gap [and] started to produce airplanes that can get into spin and out of it, so that students can be trained on that. And because of our maximum attention to safety, we believe that this should come back into training in Nigeria, even the United States of America who, at some point stopped, now are back to training students on this spin and spin recovery.
"So, this airplane is fully aerobotic, goes into aerobatics. And I think the Nigerian air force and the air force around the region will be interested and excited by this development, we are taking the lead in civil aviation. It is our intention to produce them here, assemble them here, [possibly] in the future, sell them out to where we're interested around the world.
Advertisement
"I think the first one or two aircraft assemblage will happen here in Nigeria and to fly them within the remaining four months that we have as a government. So, it's another item that is ticked on our plate, and to which we remain grateful to President Muhammadu Buhari and his government".
Advertisement
The minister also disclosed that FEC also approved the memorandum that revised the estimated total cost and augmentation, contract for procurement and installation of instrument landing system (ILS) in three airports namely: Port Harcourt International Airport, Kano International Airport, and Katsina Airport.
He said the contract, which was awarded earlier, had to be reviewed due to fluctuations in foreign exchange (FX).
Advertisement
https://googleads.g.doubleclick.net/pagead/ads?client=ca-pub-4634537558011240&output=html&h=250&slotname=7156053815&adk=3247133292&adf=3557037892&pi=t.ma~as.7156053815&w=300&lmt=1674109214&url=https%3A%2F%2Fwww.thecable.ng%2Ffec-approves-n2bn-for-local-aircraft-assembly-in-zaria%2F&wgl=1&adsid=ChAIgM6engYQ1srbzIKSn44FEjkADxiXfBszGfaZdtmwm9okEA7zzWo27BQKc_uIKcBGppd6ceDENyfZP3uyelNSpc8oDP312Ivy71U&dt=1674112834366&bpp=240&bdt=3803&idt=3703&shv=r20230117&mjsv=m202212080101&ptt=5&saldr=sa&abxe=1&cookie=ID%3D5847d634419e6ba7-2271aad522db0025%3AT%3D1674112842%3AS%3DALNI_MZbtpXquOcff82E-4Ejb22e2rLpIw&gpic=UID%3D00000a54fd5f156e%3AT%3D1658305600%3ART%3D1674112842%3AS%3DALNI_MZgLBP9ZNv-CFfRf32fqkAgVhaQJQ&prev_fmts=1040×280&correlator=2748499669933&frm=20&pv=1&ga_vid=46098558.1598117505&ga_sid=1674112839&ga_hid=1940427396&ga_fc=1&u_tz=60&u_his=4&u_h=768&u_w=1366&u_ah=728&u_aw=1366&u_cd=24&u_sd=1&adx=354&ady=3996&biw=1349&bih=626&scr_x=0&scr_y=1503&eid=44759875%2C44759926%2C44759837%2C31071638%2C44781118&oid=2&psts=ACgb8ttUYu5slccdhFgg0lhRIR1Mx1cZYi5aaSM32lD5CVkOtGzBdvph5qgOqeu7GDiXM1XBufUdQBnE-UpF7HE&pvsid=3451497724786295&tmod=1751574728&nvt=1&ref=https%3A%2F%2Fproshare.co%2Farticles%2Fnigeria-in-1min-economic-business-and-financial-headlines-190123%3Fmenu%3DBusiness%26classification%3DRead%26category%3DAll%2520One%2520Min%2520News&eae=0&fc=640&brdim=-8%2C-8%2C-8%2C-8%2C1366%2C0%2C1382%2C744%2C1366%2C626&vis=1&rsz=%7C%7CpEebr%7C&abl=CS&pfx=0&fu=0&bc=31&ifi=1&uci=a!1&btvi=1&fsb=1&xpc=C0inlSl2wO&p=https%3A//www.thecable.ng&dtd=14944 "And of course, the time it took and cost of items have increased tremendously. That's why we're back in council, revising it with an additional N546,109,336.33 with 7.5 percent VAT, and an additional completion period for nine months for this airport," he said.
"Like we say in aviation, most of the things that we do, passengers don't see. Passengers are worried about the air conditioning system, the conveyor belt and the toilets in our facilities.
"However, this particular ILS equipment, it tells you to shoot an approach into an airport, a land with zero visibility; if you have category 3C landing system. And we're having them all around the country. They will be in most of the airports in Nigeria.
"The government is making efforts to put in all of the airports, but then, the airlines will have to put them on their equipment, interpret our own in their own aircraft, and also train their pilots to fly this facility that has been provided.
"These are all matters of safety, which is our primary concern in civil aviation under President Muhammadu Buhari".
Meanwhile, Sirika also disclosed that the council approved N546.11 million for the procurement and installation of category '3C' landing system in 15 airports nationwide.
However, the installation will begin from the Port Harcourt International Airport, Omagwa; Mallam Aminu Kano International Airport, Kano; and the Katsina Airport.
The category 3C landing system, he explained, enables pilots to land in zero-visibility conditions.