Finance & Economy
News
FBN Holdco H1 2022 Result Analysis: e-Banking Income Drops 11.4%, as Net Interest Income Climbs 40.48%
FBNH has shrugged off a few challenges that resulted in a Central Bank of Nigeria (CBN) intervention in 2021, which required the regulator to change its governing Board of Directors (BoD) and stamp hard on insider-related loans. In a report titled "FBNH: Unpacking a Board Resignation and the Role of Regulatory Oversight," Proshare analysts noted that "Babalola's fears have not suddenly disappeared with his exit; they remain alive and well. Abdullahi will, therefore, need to decide where his professional and moral compass will swing and determine how he will keep the Holdco and bank on track without getting sucked into the swampy waters of disclosed and undisclosed personal interests."
The report further observed that "Equally, Abdullahi [FBNH's new Chairman] must check his deck of cards and be sure that it is fair, thus giving him a decent chance to win the transition and transformation game, unlike his predecessor. He must also quickly learn that not all the players are sitting at the table in plain sight, so there may be unexpected consequences for any decision taken. He must understand the underlying abuse of entrusted power for private gain and its costs."
Illustration 1 FBDH; Understanding a Board Resignation 
In other words, corporate interrogation beyond the numbers would require stakeholders to establish whether the Holdco's erstwhile Chairman, Remi Babalola's resignation issues which prompted the resignation, have been resolved and settled. Analysts further note that it would be helpful to understand how well the new Holdco Chairman, Abdullahi, has settled in to ensure that the BoD will not replay scenes of the dysfunctional past. However, in H1 2022, the Holdco has shown improvement.
FBNH's numbers appear primed to move upwards in Proshare's Bank Strength Index (PBSI) introduced in Proshare's May 2022 report "Nigeria Banking Report: The Case for Redefining Tier 1 Banks". They would tip it towards reestablishing its Tier 1 status based on the Index's dynamics, such as a CIR improvement, amongst other variables. Even though e-banking income slid by -11.4% in H1 2022 against H1 2021, net interest income rose by +40.58% over the contemporary period. Climbing on rising earnings, the deposit money institution (DMB) saw CIR decline marginally. The decline in CIR and the fall in NPLR if sustained for H2 2022, should see FBNH rise in the Proshare PBSI ranking (see table 1 below).
Table 1  2021 Ranking of Nigerian Banks Listed on NGX based on PBSI 
The H1 2022 rebound in net earnings prompted an improvement in the Holdco's cost-to-income ratio (CIR). The lender also saw higher shareholder returns, lower impairment charges, and a dip in its non-performing loan ratio (NPLR). Surprisingly, Nigeria's largest digital banking retail service provider recorded a decline in e-Banking income as competition in the digital ecosystem tightened with the introduction of rival digital products by fintech companies and competitor banks.
Analysts observe that the Holdco's declining loan-to-deposit ratio (LDR) raises concern as the variance between the CBN's statutory LDR of 65% and the lender's actual LDR could attract the regulator's sanctions by debiting its cash reserve ratio (CRR).
Key Highlights
Net interest income leaped by +47.28% (Y-o-Y) between H1 2021 and H1 2022 as interest income grew by +40.58% from N161.1bn in H1 2021 to N226.4bn in H1 2022
E-banking dipped by -11.4% (Y-o-Y) from N28.8bn in H1 2021 to N25.53bn in H1 2022
Earnings per share moved up to N1.55k in H1 2022 from N1.05k in H1 2021
Profit after tax grew by +48.61%, while PBT increased by +45.29% from N45.27bn in H1 2021 to N65.72bn in H1 2022
Loan and advances to customers edged higher by +36.29% (Y-o-Y) between H1 2021 and H1 2022, while impairment charge fell to +18.7% in H1 2022
FBN's customer deposit grew by +57.3% between H1 2021 and H1 2022, and the Asset base increased from N8.02bn in H1 2021 to N9.53bn.
Share Price Movement; the Unintended Consequences of a Result Delay
In 2022, the Holdco's share price started the year at N11.30k and grew steadily to N12.00; it stayed flat till January 21, 2022, and slid progressively afterward. However, the price sustained mild fluctuations in Q1 and Q2 2022 with speculations around declining earnings as the Holdco delayed the publication of its FY 2021 and Q1 2022 financial statements. Analysts noted a significant shareholder, Mr. Femi Otedola, sold off 2% of his stake in June, resulting in a dip of -3.11% from N11.25 to N10.90k on June 8; it further declined to a support level of N8.40k on June 21. Towards July, the share price regained its volatility and finally settled at N10.80k as of August 8, 2022 (see chart 1 below).
Gross Earning; Up and About, but e-Banking Revenue Tumbles
The Holdco's gross earnings retraced its steps from a negative growth in H1 2021, to a positive +22.4% rise from N293.4bn in H1 2021 to N359.2bn in H1 2022. The high-interest rate environment assisted the rise in interest income despite the -46.9% fall in other operating income. Analysts noticed an -11.4% decline in e-banking which was in marked contrast to e-banking earnings growth in H1 2021 (see chart 2 below).
Profit Before Tax (PBT): Stronger for Better
Steaming through general economic uncertainty, the group's PBT rose by +45.29%     (Y-o-Y), strengthened by a +40.58% rise in interest income over the +28.40% rise in interest expense. The increase in loans and advances and government securities supported the leap in interest income. Analysts took note of the upward trajectory of the bank's PBT over the past four years and believe it is mainly sustainable as the current global economic challenges suggest a sustained rate hike (see chart 3 below).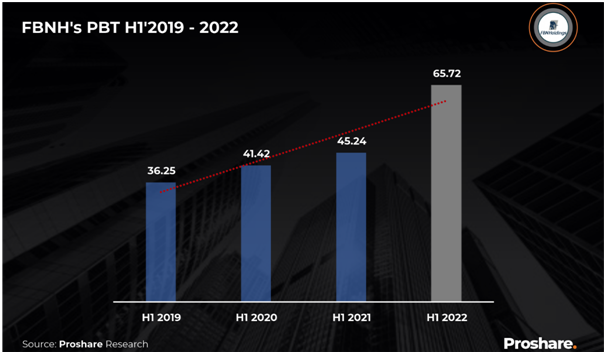 Impairment charge: A Cleaner View of Loan Assets
In H1 2022, the Holdco's impairment charge fell for the second time in two years after its N30.65bn spike in H1 2020. Analysts noticed that the Financial Holding Company wrote off bad debts valued at N104m and has a lower expectation for investment securities losses given the current high interest rate environment (see chart 4 below).
Cost-to-income (CIR): A Marginal Dip Could Mean Something
A rise of +32.7% in operating expenses due to inflation pressures was likely to weigh on the Holdco's cost-to-income ratio (CIR); however, the increase in operating income was cushioned by a rise in the top and bottom line earnings, causing a slight decline in CIR from 68.6 in H1 2021 to 68.0 in H1 2022. The figure is still above Proshare's PBSI desired minimum Tier 1 bank requirement of 50%, but the marginal fall suggests a possible downward trend in the year's second half (see chart 5 below).
Loan-deposit ratio (LDR): Bracing up for a Regulatory Minimum
In H1 2019, the group's LDR was at 63.0%, slightly close to the minimum regulatory requirement of 65% but declined to its lowest percent of 49.5% in H1 2020. Analysts observe that by H1 2022, it rose to 59.9% from 55.5% in H1 2021; a lower LDR depicts a lower loan to deposit multiple. The lower the LDR the more likely the lender would be subject to a cash liquidity squeeze if the CBN decides to impose penalties and debits cash reserves. (see chart 6 below).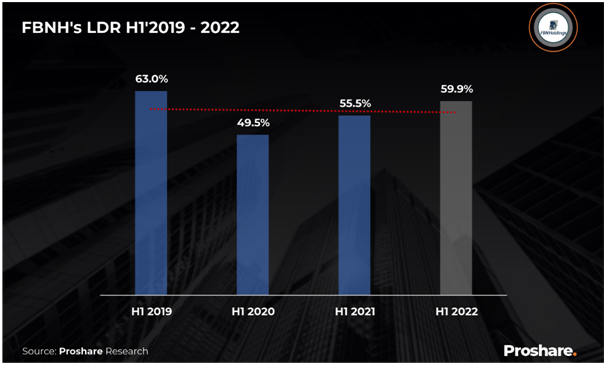 Non-performing Loans Ratio (NPLR): Clearing Up Toxic Assets
The non-performing loan has been trending downward in the past four years; they fell from 7.2 in H1 2021 to 5.4 in H1 2022. The decline depicts a higher loan quality and fewer bad loan assets; the steady fall suggests possible sustainability and a stronger bottom line for FY 2022 (see chart 7 below). 
Return on Equity (ROE); Putting a Smile on Shareholders' Faces
Equity return rose in H1 2022 from a previous decline in H1 2021; the increase in equity from N772.1m to N886.7m and a +48.60% rise in the financial Holdco's bottom-line supported an increase in equity return for H1 2022 (see chart 8 below).
 
Total Assets: Building up Some Muscle
For H1 2022, the Holdco acquired more assets; it grew its total assets by +18.75 from N8.02bn in H1 2021 to N9.53bn; the growth came on the back of increased loans, investment securities, and the purchase of Property and equipment. Analysts noticed some property and equipment sales while depreciation and amortization increased marginally (see chart 9 below). 
End Note-Beyond the Numbers
FBN Holdco survived the economic instability in H1 2022, coming out of a harsh environment with CBN raising the monetary policy rate (MPR) to control the inflation rate. The recovery suggests room for further improvement as the CBN should maintain its hawkish stand as inflation expectation rises. However, the decline in e-banking might slow down profit growth.
But beyond the numbers, the Holdco needs to establish a new code of corporate conduct to support the rebuilding process and reaffirm stakeholder confidence in its governance.
In recalling Proshare's Unpacking a Resignation, the writers noted that "introducing a woman to a man is no excuse for sleeping with her after her wedding day. Regulators must understand boundaries and set such boundaries to sustain and support the best global oversight practices. Babalola may have left FBNH, but the problems persist, and the only way to tackle them is by stepping back and seeing a broader interest beyond self." Proshare believes that the prognosis needs to change.
Culled from Proshare , Nigeria