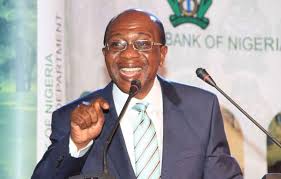 The head of corporate communications of the Central Bank, Osita Nwanisiobi has said that the rumours of a purported sack of the Governor of the Central Bank, Godwin Emefiele, is not true.
Osita reportedly denied the rumours in a phone conversation stating that "he is not aware of any sack of the CBN Governor".who is said to be in Davos on official assignment.
Several online media blogs have published reports of a purported sack of the Governor of the Central Bank of Africa's largest economy
We also contacted other sources close to the presidency and the CBN Governor to confirm if the rumours are true but none of them confirmed the purported sack.
The CBN Governor has been under pressure since he declared interest in running for president of the Federal Republic of Nigeria.
Emefiele had approached the court seeking a restrain of the Board of the Central Bank of Nigeria, the Attorney General of the Federation and the Independent National Electoral Commission (INEC) from hindering him from running for the office of the president.
The judge granted the order following an ex-parte motion filed by one Nkwo Augustine Eddiego against the Board of the Central Bank of Nigeria and INEC seeking an order to restrain the defendants.
However, sources indicate the Presidency was unhappy with the moves chiding him for taking INEC to court for a matter that was not in contention.
Mr. Emefiele has since withdrawn the suit against INEC and Attorney General from restraining him from contesting for President The reported interest of the Governor of the Central Bank of Nigeria, Mr. Godwin Emefiele, CON, in the 2023 Presidency could be linked a weak institutional culture . His ambition has continued to raise concerns over the independence of the Central Bank and the sanctity of the institution.
Analysts sharply criticized the move because they believed "the institutional integrity of the regulator should not be sacrificed on the slab of personal political aspirations or public projections of same. The credibility of the CBN's signaling actions needs ultimate preservation, with no economic or public agents having to second-guess the intentions of the regulatory chief." It is also noteworthy that the CBN warehouses sensitive election materials, which is why advocacy groups like the Centre for the Promotion of Private Enterprise (CPPE) have called for efforts to preserve the integrity of the CBN.