Adding the 3mmtn Sokoto line 4 cement plant in January increased BUA Cement's limestone production capacity, contributing to the +40.5% growth in the group's revenue in 9M 2022. The upward adjustment in cement prices and improved interest income strengthened the group's earnings despite the net finance and operating costs spike. The group's liquidity ratio dipped to 0.64 while its debt-to-equity ratio climbed to 0.56.
During a recent investor's conference call, the management emphasized that the expansion plan at Sokoto and Obu is still ongoing and intends to be completed in 2024, which will take the company's production capacity to 17mpt per annum. However, the newly launched 3m metric tonnes has given room for exportation; the group has begun exportation to Tunisia while planning to explore Niger and Burkina Faso.
As regards demand, the group remains optimistic about cement demand in Q4 2022 and through 2023 despite high inflation expectations, observing that production volume is currently at 22m tonnes and should reach 30m tonnes by the end of 2022, higher than the 28m tonnes recorded last year. In addition, the group's management explained that the Capacity utilization of its line 4 plant in Sokoto state would be known at the end of Q4 2022.
Key Takeaways
Sales of Cement rose by +40.5% from N186.9bn in 9M 2021 to N262.6bn in 2022.
Cost of sales rose by +43.3% to N142.8bn from N99.7bn in 9M 2021.
Earnings per share were up by +12.3% to N219k for the period
Gross profit climbed +37.3% year-on-year (Y-o-Y) from N87.3bn in 9M 2021 to N119.8bn in 9M 2022
Profit before tax (PBT) increased by +19.5% to N88.8bn in 9M 2022 from N74.3bn in 9M 2021
Net Finance cost soared by +826.9% to N9.72bn in 9M 2022 from N1.05bn in 9M 2021
Selling and distribution costs increased by +125.2% to N12.6bn.
Bua cement's total assets rose by +12.9% to N781.6 while total equity increased by +3.3% to N384.1bn in 9M 2022.
BUA Cement Plc: Year-to-date Share Price Movement
The share price performance of BUA cement in 2022 reflected minimal volatility, showing investors' preference for taking a hold position despite challenging economic times. The company's share price remained flat for most trading sessions as investors held onto their stocks. In mid-July, the share price took a bearish turn, falling to a support price of N47.85k on September 26. Analysts observed a decline in share price after the dividend payment of N2.60 per share on July 21, 2022 (see chart 1 below).  
Revenue
The Limestone crusher generated a +40% increase in revenue for 9M 2022. The revenue was mainly from cement sales, which increased from N186.9bn in 9M 2021 to N262.6bn in 2022. The revenue growth translated to a +37% rise in gross profit despite the +43% rise in the cost of sales. The cost of sales (CoS) spike resulted from the +60% rise in energy costs and the +43% increase in raw materials (see chart 2 below). 
Profitability
Concerning profitability, BUA Cement saw a +19.5% rise in PBT from N74.3bn 9M in 2021 to N88.8bn in 2022. Profit growth occurred despite the hike in net finance cost driven by foreign exchange losses and high-interest expenses. The +54% increase in other income, strengthened by the rise in insurance claims, helped lessen the high operating costs. Analysts observed the group's income tax rose significantly by +76% as deferred tax charges increased by +74%, thereby reducing the growth of the group's profit after tax. The profit after tax increased by only +12.3% from N65.9bn in 2021 to N74.0bn in 9M 2022 (see chart 3 below).
Liquidity Ratios
The rise in short-term borrowings and trade payables pushed the group's current liabilities to N200.25bn in 9M 2022 from N127.6bn in Q3 2021, while the current assets slipped to N127.7bn as cash and short-term deposits declined by -44% compared to the previous year. The cement maker's current ratio fell to 0.64 from 1.02 posted in 2021, indicating tighter liquidity and a reduced capacity to cover its financial obligations (see chart 4 below)   
Acid Test Ratio
The company's quick ratio/acid-test ratio followed a similar pattern, declining to a record low of 0.39 after subtracting the group's inventories. Analysts observed that the stocks had a considerable weight on the group's current assets, which justifies the significant drop in the acid test ratio. The drop reaffirms the liquidity challenges of the company (see chart 5 below). 
Leverage Ratio
The debt-to-equity ratio increased slightly to 0.56 against 0.55 in 9M 2021. The marginal increase in total debts and shareholder's equity supported the mild rise. Previously the cement producer relied mainly on shareholder's equity for financing its operations, but that changed after the first bond issuance of N115bn in December 2020, bringing the total debts to N203.8bn in 9M 2021 from N33.6bn in 9M 2020 (see chart 6 below).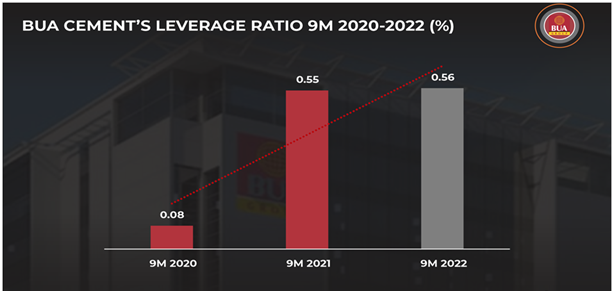 Return on Assets
The group's efficiency in asset utilization has improved in the past year, rising from 0.23 in 9M 2019 to 0.34 in 2022. The significant rise in top-line earnings justifies the improvement in asset usage. The group's asset base has risen from N621.4bn in 9M 2020 to N781.6bn in 9M 2022 (see chart 7 below).
Competitor Analysis of the Cement Industry
The Trio of the Nigerian Cement Industry generated total revenue of 1,709 trn in 9M 2022 despite the challenging operating environment, a +20% growth from the previous period. Regarding contribution, Dangote retained its position as the dominant driver of the industry, accounting for 69%, while Lafarge cement followed at 16% and Bua cement at 15%.
Despite the rising operating costs, profit before tax adjusted upward for BUA Cement and Lafarge cement. In contrast, Dangote cement pinched a bit due to plant repair and maintenance costs. However, Dangote still led at N335.9bn while Bua cement came second with N88.8bn and Lafarge cement had N53.9bn as the least.
As regards the debt-to-equity ratio, Lafarge cement had the lowest leverage ratio of 0.08 with the small size of its debt, BUA cement followed by 0.56. Dangote cement had the highest ratio of 0.85 due to its large debt of N709.8bn.
With the exemption of inventories, Lafarge cement was the most liquid for the period with the acid test ratio of 0.75; Dangote cement followed closely at 0.64, while BUA cement had the least at 0.39 (see chart 8 below).