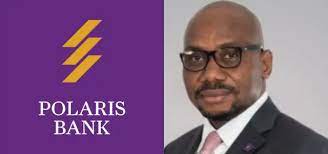 A cast of venture capitalists, a banker, and a real estate entrepreneur are the controllers of Strategic Capital Investment Limited (SCIL), the consortium to which the Central Bank of Nigeria sold Polaris Bank, PREMIUM TIMES can authoritatively report.
Our investigation is revealing for the first time the full span of the ultimate beneficial ownership of the bank.
The trio of Michel Danladi Verheijen and Ehimari Idahi, who are venture capitalists, and Albert Chukwuemeka Emuwa, a banker, used layers of offshore entities to hold their 45% shareholding in the bank.
Albert Chukwuemeka Emuwa
Full disclosure of these holdings, including details of Polaris Bank's full beneficial ownership, was missing in the bank's documentation with the Corporate Affairs Commission when PREMIUM TIMES requested the information.
The non-availability of the details is a clear breach of the Corporate and Allied Matters Act (CAMA) 2020.
That Messrs Verheijen, Idahi and Emuwa are associated with 45 per cent interest in Polaris Bank was largely unknown before now, but the control of the larger 55 per cent shareholding is long known to be held by Auwal Lawal, a real estate tycoon.
Auwal Lawal
The new revelation is the product of several months of cross-border digging by this newspaper. The investigation began shortly after the bank, a hitherto distressed entity that was bailed out of trouble with over a trillion naira of public funds, was sold to the SCIL consortium in October 2022.
Our investigation spanned Nigeria, Mauritius and Jersey, where we eventually hit a dead end. When approached by our reporters, authorities in that secrecy jurisdiction declined to disclose the ultimate beneficial owners (UBO) of Zagamon Limited – a shell company through which Messrs Verheijen, Idahi and Emuwa hold their 45 per cent stake in Polaris Bank.

We then approached the management of Polaris Bank with our findings. We informed the Bank that the non-disclosure of 45 per cent of its ownership clearly violates the CAMA Act 2020, which seeks to make ownerships of businesses operating in Nigeria more open and transparent.
On May 15, in response to our enquiry, the bank surprisingly revealed the identities of all its beneficial owners. However, it wrongly claimed that no provision of CAMA 2020 was breached with the non-availability of the UBO records in the company's file with the CAC.
Enacted to enhance corporate transparency and combat illicit financial flow, CAMA 2020took effect in 2020, promising progress against asset shielding by dodgy business people and politically exposed persons (PEPs), with a statutory requirement for companies to disclose their beneficial owner(s) or person(s) with significant control (PSC).
Even where a foreign company is a subscriber or shareholder in a company registered in Nigeria, the law requires the offshore company to disclose the particulars of its beneficial owners, which can be publicly accessed in the CAC register.
The particulars of the PSCs, including real names, national ID numbers, residential and tax addresses, email addresses, age, and place of birth, nature of and percentage of ownership, and PEP status, are to be kept in the central PSCs register by the CAC and made publicly accessible.
The SCIL consortium and Polaris Bank
Last October, the Central Bank of Nigeria announced the sale of Polaris Bank to SCIL for N50 billion. The sale decision was jointly taken with the Asset Management Corporation of Nigeria (AMCON), the government's bad debt buyer, which took over Polaris Bank's predecessor Skye Bank after the CBN withdrew its licence in 2018 before setting up Polaris as a bridge bank.
In addition to the N50 billion acquisition price, SCIL also got 25 years to repay the N1.3 trillion the central bank injected into Polaris in the four years before the sale.


Publicly available incorporation records show that SCIL was registered with the Corporate Affairs Commission on 28 April 2022, six months before it emerged as the preferred bidder for the acquisition of Polaris, whose assets are worth N1.2 trillion(2.8 billion USD).
CAC checks further show that SCIL has two PSCs or beneficial owners, with both being corporate entities: Ponglomerape Limited (55 per cent) and Clotaire Investment Limited (45 per cent).
Ponglomerape was registered on September 5, 2002, and is 99 per cent owned by Auwal Lawal, with Asmau Ahmad Auwal Mohammed taking the remaining 1 per cent shareholding, according to our investigation and the disclosure made to us by Polaris Bank. The ownership of Ponglomerape by the Lawals is disclosed in the corporate filing at the CAC, complying with CAMA 2020 requirements on beneficial ownership disclosure.
Mr Lawal shot into public consciousness after his wedding in 2017 to the daughter of Nigeria's ex-military president, Ibrahim Babangida. He is a real estate tycoon. According to the company's website, he chairs Ponglomerape Properties Investment Limited, which has developed residential properties in Abuja, including in the affluent Maitama neighbourhood of the capital.
Zagamon's Non-disclosure
On the other hand, Clotaire is 100 per cent owned by another company, an offshore entity known as Zagamon Limited, the company's status report, obtained exclusively by PREMIUM TIMES on 3 May 2023 by CAC, shows.
While Nigeria's law allows an offshore company like Zagamon to be a subscriber or shareholder in a Nigerian-registered company, the legislation requires such an offshore entity to "provide the prescribed particulars of the person with significant control who ultimately owns or controls the foreign company…," according to the PSC Regulation 2022.
Despite this provision, CAC only has on file Zagamon, an offshore entity, as the 100% shareholder of Cloitare. That arrangement made it impossible for the public to know Cloitaire's UBOs through the CAC register. That, in turn, made it difficult to have a full span of the real owners of Polaris Bank.
The non-disclosure violates Nigeria's law and creates concerns about the continued use of offshore secrecy for asset shielding in a country notorious for corruption and illicit financing involving PEPs and dodgy businesspeople.
On CAC records, Zagamon is said to have been registered in Mauritius, a notorious destination of the rich and powerful seeking a haven for their financial secrets.
However, an investigation by PREMIUM TIMES revealed that Zagamon was not incorporated in Mauritius but in another offshore secrecy jurisdiction, Jersey.
We were able to track down the company in Jersey. The Zagamon we found in Jersey was incorporated on 21 May 2019 and has the same incorporation number as the one on the CAC database. However, the CAC wrongly claimed the company was registered in Mauritius.
We then officially approached Jersey Financial Services Authority for information and did a paid search for records on Zagamon's ultimate beneficial ownership.
That search at the Jersey company registry still did not yield the beneficial owners of Zagamon. Rather, what is listed as the director and shareholder of the company is a long-known offshore secrecy seller, Lumbro Corporate Services Limited. Secrecy enablers are usually used as nominee directors and shareholders of companies to hide assets in notorious tax havens and secrecy jurisdictions.
In the search report, Zagamon and Lumbro share the same address, Standard Bank House, 47-49 La Motte Street, St. Helier, JE2 4SZ, Jersey. This address features in our earlier Panama Papers Investigation. It is linked with other secrecy sellers like Standard Bank Offshore Trust Company Jersey Limited, Lumbro Nominees (Jersey) Limited, and Cotllion Trust Company Limited.
Often, in countries like Jersey, beneficial owners are never publicly known. Instead, service providers who help to incorporate these shell companies appear as nominee directors and stand-in shareholders. Real beneficial owners, whose information is usually tucked away in confidential files, may only be revealed when requested by law enforcement agencies or in leaks such as Panama Papers, Paradise Papers, or Pandora Papers.
Godwin Emefiele, Governor of Central Bank of Nigeria (CBN) CBN Governor Godwin Emefiele facing demands for transparency and accountability in the sale of Polaris Bank amid criticisms following the failed Naira swap policy that aggravated people's suffering.
The regulators involved in the Polaris Bank transaction – including CBN, AMCON, and Corporate Affairs Commission – appear unable to explain how they allowed partial disclosure of the ownership of the bank, in violation of the law.
"We are concerned about this matter because we advocated the legal framework to enable the disclosure of beneficial owners of companies in Nigeria," said Auwal Rafsanjani, the executive director of the Civil Society Legislative Advocacy Centre (CISLAC), the representative of Transparency International in Nigeria.
"To now see that a Beneficial Owner (BO) of SCIL that purchased Polaris Bank is itself a corporate entity whose BO is a shell company with concealed owners registered in Jersey, which is a tax haven, is a red flag."
Polaris Bank opens up
Although it did not comment on why the UBOs of Clotaire were not disclosed in filings made to the CAC, Polaris revealed their names to PREMIUM TIMES.
The bank said, "Clotaire Investment Limited has one shareholder, Zagamon Limited, who owns 100 per centof the shares. The shares of Zagamon Limited are held by Lumbro Corporate Services Limited in trust for Zalane Limited (46.21 per cent), Montane Limited (10 per cent) and The Galtstar Trust (43.79 per cent), who are nominee shareholders used as vehicles by Standard Bank Trust Company(Mauritius) Ltd as trustees for the settlers.
"The Shares held for Zalane Limited are held as part of the assets of a trust (Raria). Raria Trust owns 100 per cent of Zalane Limited. The Original Settlor of the Raria Trust is Michel Danladi
"The shares held for Montane Limited are held as part of the assets of a trust (Arakan). Arakan Trust owns 100 per cent of Montane Limited. The Original Settlor of the Arakan Trust is Albert Chukwuemeka Emuwa.
"The shares held for the Galtstar Trust are held as part of the assets of the Galtstar Trust. The Original Settlor of the Galtstar Trust is Ehimare Idiahi. Mr. Idiahi has no holding company. Therefore, interest in Zagamon is directly held by the Galstar trust."
"The trustee of all three trusts is Standard Bank Trust Company (Mauritius) Limited."
Messrs Idiahi, 41, and Verheijen, 47, are the co-founders of Verod Capital, a Nigerian investment firm. Mr Idiahi is associated with a total of seven companies as a serving and former director in the UK corporate register.
Mr Emuwa, 59, is a former chief executive of Nigeria's Union Bank and is currently a director of Tangerine Financial Limited, a UK-registered firm, alongside Mr Idiahi.
'Polaris Bank Sale indicates regulatory capacity gap'
Governance and transparency activists aware of our findings described the failure of the CAC to compel SCIL to act in compliance with the law – and also the due diligence failure of the CBN and AMCON – as a reflection of regulatory failures in Nigeria.
"This shows a gap in the capacity of our institutions to implement these rules and it is disappointing," Mr Rafsanjani, the Transparency International official, said.
The CAC did not respond to an enquiry sent to it by PREMIUM TIMES (filed via a Freedom of Information request) on why it incorporated SCIL without compelling the entity to disclose all its beneficial owners, a sloppy approach that breached its own law (CAMA 2020) enacted to enhance corporate transparency and block asset shielding.
The CBN acknowledged an FoI request for information and documents relating to Polaris Bank's acquisition process and the ultimate beneficial owners of SCIL. It, however, failed to answer the questions we asked.
"We wish to inform you that the information being sought, where available, will be communicated in due course," reads CBN's reply of March 30 2023. The bank is yet to keep its promise.
AMCON ignored requests to comment on our findings. The spokesperson for the agency, Jude Nwauzor, did not answer or return calls made to his known telephone number between May 7 and 8. He also did not reply to a text message sent to him. ADAPTED FROM PREMIUM TIMES